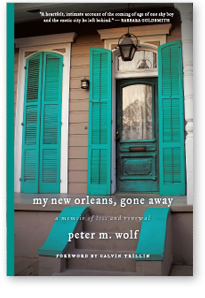 I loved it. It brings back great memories.
- Walter Isaacson, author of "Steve Jobs."
I would recommend it to anybody.
- Alfred Uhry, author of "Driving Miss Daisy."
Charming.
- Winston Groom, The Wall Street Journal
Engaging, delightful.
- Jonathan Yardley, The Washington Post
Heartfelt, intimate, and painfully honest.
- Barbara Goldsmith, historian and author
MY NEW ORLEANS, GONE AWAY BOOK REVIEW: THE WALL STREET JOURNAL, JULY 20-21, 2013: The Place He Once Was From
An old saying insists there are only two ways to leave New Orleans, drunk or in love, but that's just for tourists who get no farther than the French Quarter. Beyond that timeless den of iniquity, however, lies perhaps the most complex society in America, its citizenry stratified over nearly 300 years by race, class and ethnicity, almost on a European model. From the old French and Spanish Creole families whose ancestors got rich on sugar and cotton to the toothless wharf rats on the docks of Algiers, everyone has his spot in Old New Orleans's fixed society.
Squeezed into this festering olio are New Orleans's Jews, in particular the ones whose ancestors from the 18th century paralleled the wealthy European Catholics and Protestants that people the city's power structure. These Jews formed the nucleus of the commercial district with their great department stores Maison Blanche, Godchaux's, Rubensteins, but they had always been excluded from the high perches on the social ladder, no matter how hard they tried to climb it.
Peter Wolf is one of these, a Jew in New Orleans, a status that dawned on him very slowly but over time came to follow him around like a cloak. The Wolfs were "casual Jews," as he puts it in his charming memoir, "My New Orleans, Gone Away." His parents didn't attend Temple Sinai, even though their ancestors had started it, the first Reform congregation in New Orleans, which, incidentally, didn't bar mitzvah or bat mitzvah its children but "confirmed" them. Not only that, the Wolfs' big holiday was Christmas, "the most joyous time of the year," according to Peter, complete with Christmas tree, decorations and presents" the only thing missing was a creche and the baby Jesus."
"We're Jewish," Peter's grandmother told him, "but not in an obvious way."
His memoir is about his city, its snobby topside and seamy underside, about New Orleans contrasted with the Ivy League, and about how he came to be, of all things, an urban planner when, in this reviewer's opinion, he should have stuck to writing but I digress. - Winston Groom, The Wall Street Journal (read the complete review)

"Engaging…delightful…Wolf returns to the Big Easy after a protracted Yankee Education at Exeter and Yale, joins his father's firm in the cotton trade, takes up lodgings on Burgundy Street at the edge of the French Quarter, and hangs out at places the mere mention of which sends shivers of pleasure down my spine" - Jonathan Yardley, The Washington Post

I loved it. It brings back great memories. -– Walter Isaacson, Author of "Steve Jobs," president of the Aspen Institute, and New Orleans native.

My New Orleans, Gone Away is the pitch perfect reminiscence of what it feels like to grow up southern and Jewish at the same time. I would recommend it to anybody. -– Alfred Uhry, author of Driving Miss Daisy

"I adore this book and read it in a kind of dreamy fog, unable to put it down and think of anything else. It strikes just the perfect note for a New Orleans memoir, smart and graceful, with the affectionate heart of a native son and the clear eyes and keen intelligence of a scholar of cities. And it's a very brave book, coming from a man who's struggled and taken risks for his passions. What a lovely way Peter Wolf has found to reconcile his past and present selves!" - Susan Larson, The Reading Life, WWNO, National Public Radio, New Orleans

A new episode in that "the great collective epic" comes from Peter M. Wolf, author of My New Orleans, Gone Away: A Memoir of Loss and Renewal. Unlike the Katrina diaspora tales, Wolf, an authority in New York on urban policy, dwells on a loss layered in irony from his 1940s upbringing in a wealthy Jewish family barred from blue-blood carnival society. - Eight Years After Hurricane Katrina, New Orleans Has Been Resurrected - Jason Berry, The Daily Beast, Aug 29, 2013

Over and again, the land planner Peter M. Wolf's stories of growing up in that extraordinary city, of leaving, then returning, then leaving and coming back again, and again, remind us of that little piece of eternity. Reading his memoir, "My New Orleans, Gone Away," we feel the warmth, the charm, the exuberant confusion of this unique place. Not unlike the ebb and flow of the Gulf tides, Mr. Wolf pulls himself away from New Orleans in order to pull himself back. And back. And back... - Long Island Books: A Piece of Eternity - Laura Wells, The East Hampton Star

A noted urban policy expert and architectural historian, Wolf offers a loving and beautifully written portrait of New Orleans in the 1950s and 1960s as well as beautifully rendered memories of New Haven, New York, and Paris in this journey of self-discovery and tribute to his roots. -– Venessa Bush, advanced review, Booklist

Dear Dr. Wolf:
I hold you personally responsible for the fatigue I'm feeling this morning.
After putting my Kindle down last night, I struggled to get a good night's sleep worrying about your decision to return to New York for your PhD, the selling of your French Quarter home and the break up with your girl friend.
This morning, I anxiously awoke at 4:30 a.m. to find out what happened. It's 8 a.m. and I'm now on my fourth cup of coffee.
My name is Bill Bergman. I am the younger son of Rabbi Leo Bergman of Touro Synagogue. My dear friend Bill Sear, the son of Judge Morey Sear, called me last week from Atlanta and said I had to read your book, "New Orleans, Gone Away." I subsequently received an email from Jim Glassman, founder of Figaro, who encouraged the same.
Your story was riveting. It touched me in many ways. I don't know how to express my sincere gratitude for the help in awakening me to many of my own insecurities about growing up in New Orleans and my current adult connection.
Your description of Julian Feibelman and Temple Sinai was stunning. I sensed my dad chuckling as I read it. I thought about the fun Christmas parties I use to attend as a kid that made my dad wince.
My 31-year old son tells me I should consider writing a book about growing up in New Orleans as the son of a liberal rabbi who fought for school integration in the 1960s. I keep telling him I don't have the fortitude to relive the experiences.
- Bill Bergman

Wolf's journey from inhibited child to dream-chaser is beautifully told, full of love for New Orleans, tradition, and family, all trumped by the angst-filled awakening that led him forward. - Publishers Weekly

The Big Uneasy: PW Talks With Peter M. Wolf - In My New Orleans, Gone Away, Wolf, a sixth-generation member of an influential New Orleans Jewish family, shares stories of the city his family helped shape and how the city came to shape him.- Barb Axelson, Publishers Weekly Interview

" It is the story of a GIANT of a man, with zero braggadocio, but the understated, diffident, even somewhat shy fellow all of us know just stating simply and straightforwardly the astonishing diversity of his many spectacular accomplishments (and I thought you were just a little old management advisor.) But most of all, in my view at least, it is about Peter Wolf trying to understand Peter Wolf, come to grips with the reality and go forward. That is what makes it so unique and special, and I think an improvement on Proust's similar efforts, and, unlike some of Proust, we sense the assurance that every fact you report is dead honest and true."- Tom Perkins, Yale Class of 1957

A heartfelt, intimate, and painfully honest account of the coming of age of one shy boy and of the exotic city he left behind, but will never forget. A story of the courage of breaking away and the "you are there" descriptions of places and people that make the reader part of this narrative of struggle and triumph. - Barbara Goldsmith, author of Obsessive Genius: The Inner World of Marie Curie, and Historian

Peter Wolf's book is a charming, insightful memoir, which is beautifully written and descriptive of what it was like to grow up Jewish in New Orleans in the mid-50's is worth reading for those who enjoy memoirs steeped with interesting people, places and experiences. - Scott Cowen, President, Tulane University

Peter Wolf has planned communities, and written meaningfully about the importance of place, for much of his life. In My New Orleans, Gone Away, you realize where it all comes from, and how powerfully the aura of New Orleans has influenced everything he has done. Wolf's story is personal and intimate, yet addresses something that matters to every one of us: the compelling theme of home, and how all of us are shaped by it. - Paul Goldberger, Pulitzer Prize winner and author of Why Architecture Matters

Peter Wolf's My New Orleans, Gone Away is the triumph of a memorist with the eye of an architect and the heart of a poet. With admiration, and occasionally, awe, I shared the development of his feelings and taste. This may very well be a modest classic of that enchanted city's art, culture, lifestyle and vanishing monuments. -– Sidney Offit, author of Memoir of the Bookie''s Son

Being in the Judge Business for over 40 years I've come to have great respect (and appreciation) for those who not only tell it as it is but who have the grace and ability to write it all down with indisputable fact and figures. You have certainly accomplished that in your painstaking accuracy and straight forward reporting in My New Orleans, Gone Away. -– Peter E. Beer, United States District Judge, New Orleans, letter to the author

One of the prevailing themes in the book is that of risk. There is risk, he pointed out, in his leaving New Orleans to begin his life in New York. There was even risk in his testing the academic waters to determine if medicine would have been a rewarding field for him. His associations with women were also full of risks. Some of the risks worked out, while others didn't. -– Alan Smason, Crescent City Jewish News

A noted urban policy expert and architectural historian, Wolf offers a loving and beautifully written portrait of New Orleans in the 1950s and 1960s as well as beautifully rendered memories of New Haven, New York, and Paris in this journey of self-discovery and tribute to his roots. -– Vanessa Bush, BOOKLIST

Wolf's fascinating memoir illustrates how the familiar becomes exotic when one is away from it for long periods of time. He captures the city's unique brand of provinciality and the entwined strands of family connections that link him to both the place and its ethos. -– Thomas Uskali, Louisiana Endowment for the Humanities, Cultural Vistas